Desktop VisualizeR 1.4.1 now supports resizable widgets. Each type of widget, however, has different amount of memory usage limit. This fact sometimes lower widget image quality. You can configure the memory usage limit on each widget.
Put a widget and resize it.
Tap widget to launch widget configuring activity.
Select "Settings" in the menu and set "Override memory assign" ON.
Set "Memory assign" ON and enlarge the number. Smaller number uses less memory but may lower image quality.
Configure the memory assign to keep lower number.

It is useful entering edit mode before configuring

.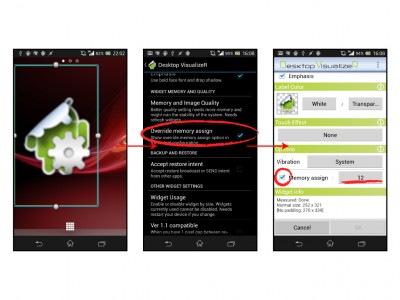 Ex) Image quality difference(Left:small assign)